Here We Will Show You Donald Duck Family Tree:
Here We Will Show You Donald Duck Family Tree. The Duck family is a lively and diverse group of characters that have captured the hearts of audiences worldwide.
At the center of this vibrant family tree is the iconic Donald Duck, a beloved Disney character known for his spirited personality and misadventures. In this article, we will take a closer look at some of the key members of Donald Duck's family, each with their own unique traits and contributions to the Duck clan.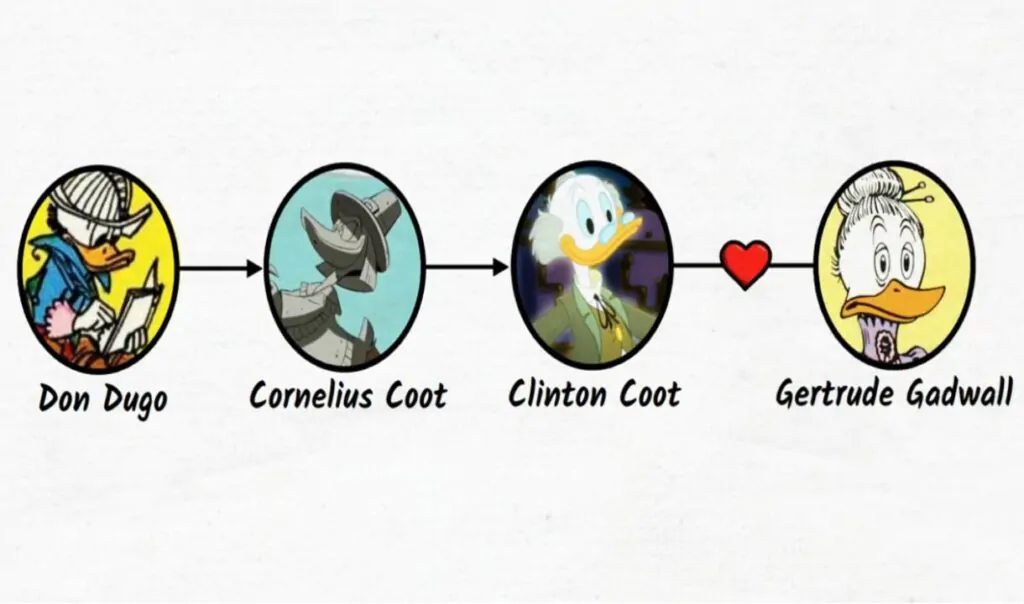 Gertrude Gadwall
Gertrude Gadwall is married to Clinton Coot and is the mother of Elvira Coot (also known as Grandma Duck) and Casey Coot. She is also the grandmother of Quackmore Duck, Daphne Duck, Eider Duck, Cuthbert Coot, and Fanny Coot.
Furthermore, she is the great-grandmother of Donald Duck, Della Duck, Gladstone Gander, Abner Duck, Fethry Duck, Gus Goose, and possibly Kildare Coot. Lastly, Gertrude is the great-great-grandmother of Huey, Dewey, and Louie, and possibly Dugan Duck.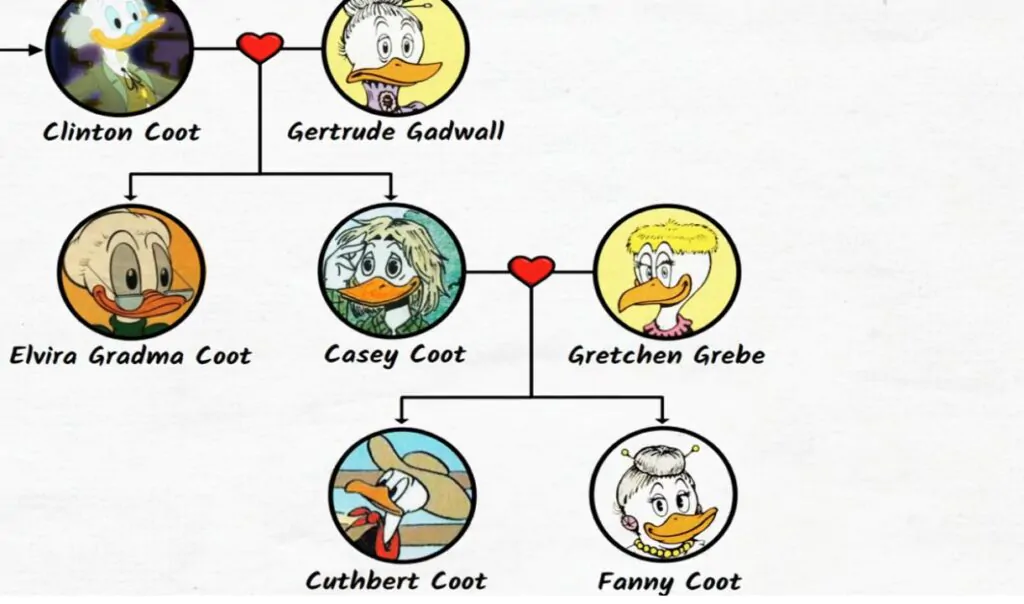 Elvira Coot (Grandma Duck)
Grandma Duck, also known as Elvira Coot, is the wise and caring matriarch of the Duck family. As Donald's grandmother, she holds a special place in the hearts of her relatives.
Grandma Duck is known for her warm and nurturing personality, offering guidance and support to her family members. With her wealth of life experience, she acts as a steady and calming influence amidst the chaos of Donald's adventures.
Elvira Coot, also known as Grandma Duck, is the beloved grandmother of Fethry Duck and Gladstone Gander.
She holds the important role of being the paternal grandmother of Donald Duck and is considered the matriarch of the Duck family. In many stories, she is commonly referred to simply as Grandma.
Casey Coot
Casey Coot, an anthropomorphic coot/duck hybrid, is believed to be the younger brother of Elvira (Grandma Duck). He eventually married a woman named Gretchen Grebe and together they had two children, Cuthbert and Fanny.
However, an alternative version suggests that it was Humperdink, Grandma's brother, who married Gretchen and became the father of Cuthbert and Fanny, while Casey was actually Elvira's husband and the grandfather of Donald Duck.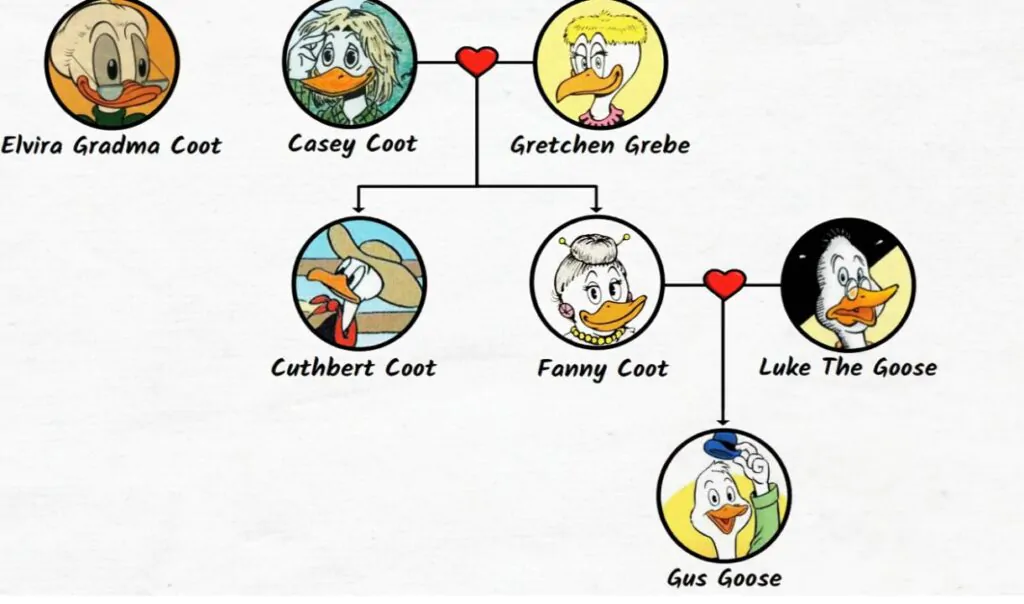 Fanny Coot
Fanny, who is Donald Duck's aunt, married a Mr. Goose and they had two children, one of whom is the lazy cousin Gus Goose. While it is commonly believed that Fanny is the daughter of either Casey or Humperdink, two of Elvira Duck's brothers, another account suggests that she is actually the daughter of Elvira Duck herself.
Interestingly, there is another version stating that Gus's mother might not be Luke Goose's wife, as commonly believed, but rather his sister, who may or may not be Fanny.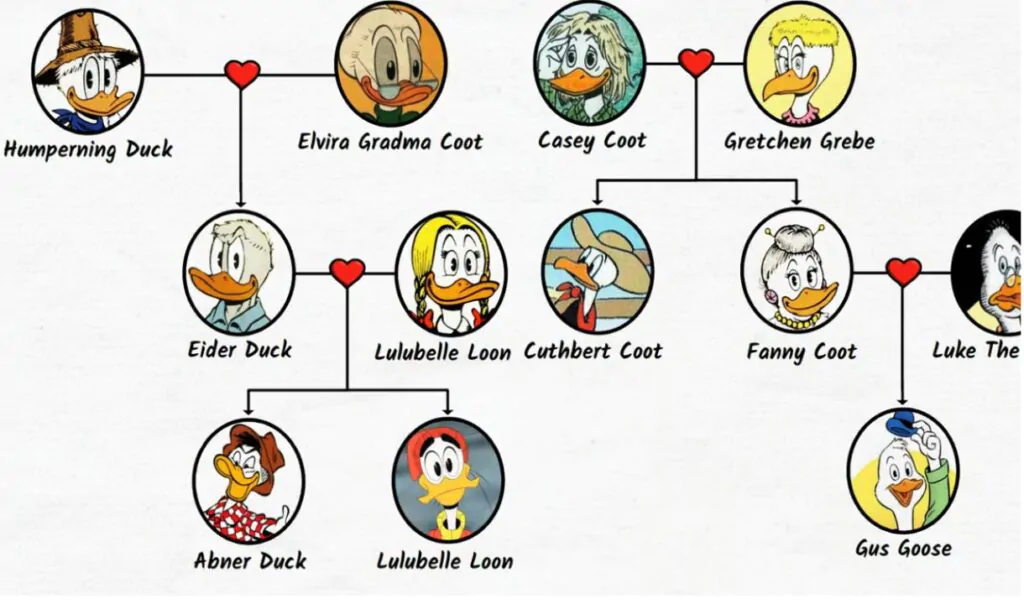 Humperdink Duck
Known by various names such as Daniel Duck, Humperdink Duck, or Dabney Duck, Grandpa Duck is the husband of Grandma Duck and serves as Donald Duck's paternal grandfather.
Just like Grandma Duck, Grandpa Duck made his initial appearance in a picture featured in the Donald Duck newspaper comic strip illustrated by Al Taliaferro.
Eider Duck
Eider, who is Donald Duck and Della Duck's uncle on their father's side, is also the uncle of Gladstone Gander. He is married to Lulubelle Loon and together they have several children, including Whitewater Duck and Mary Duck.
Eider is the son of Grandma Duck and Quackmore Duck, and he possesses great strength. In his youth, Eider worked as a helpful farmhand for his mother, and later on, his son Whitewater Duck became a strong lumberjack in the North. Little is known about Mary Duck, except that she is the mother of Dugan Duck.
Daisy Duck:
Daisy Duck is Donald's long-time girlfriend and a prominent member of the Duck family. Known for her beauty, charm, and independent spirit, Daisy is often seen by Donald's side. She is a strong and assertive character, capable of holding her own in any situation. Daisy frequently joins Donald on his misadventures, adding a touch of romance and a dash of sass to their escapades.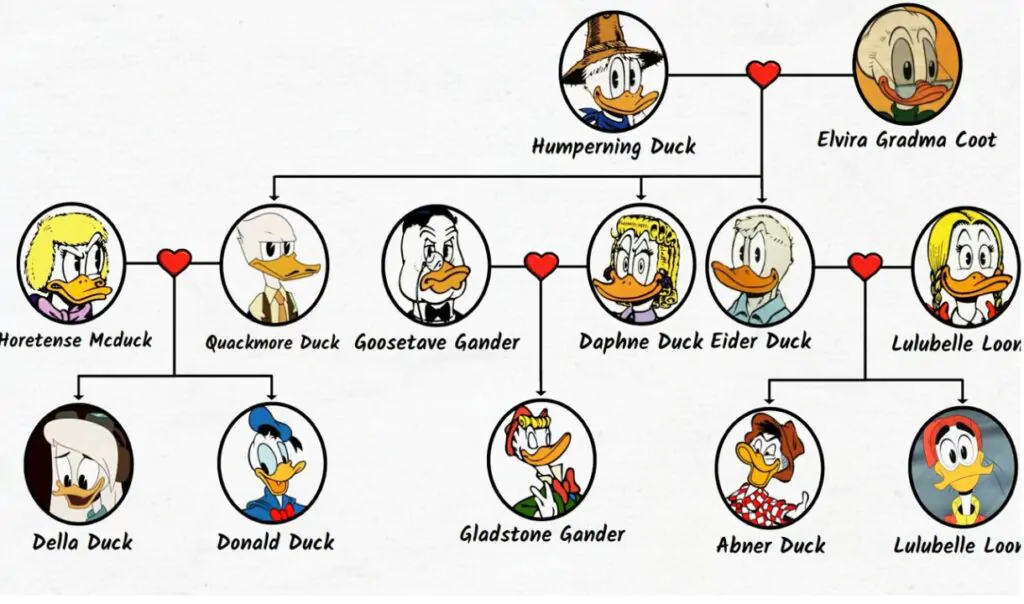 Gladstone Gander:
Gladstone Gander is Donald's cousin and one of the most unique characters in the Duck family. Known for his extraordinary luck, Gladstone seems to effortlessly stumble into success and good fortune, much to Donald's envy.
His carefree nature and perpetually lucky streak often lead to amusing and unexpected situations.
Daphne Duck
Daphne Duck, according to most sources, is the mother of Gladstone Gander. She is believed to be the daughter of Grandma and Grandpa Duck, making her the paternal aunt of Donald Duck and Della Duck.
Daphne is also the sister-in-law of Hortense McDuck and the aunt-in-law of Della's unnamed husband. She is known as the maternal grand-aunt of Huey, Dewey, and Louie Duck, although some accounts suggest that it was her husband, Goosetave Gander, who had the blood relation to Donald as Grandma Duck's son.
Daphne is exceptionally lucky because a magician painted a lucky sign on the Ducks' barn on the day she was born. She married the wealthy Goosetave Gander and together they had three sons, including Gladstone. Daphne was a very loving mother to Gladstone and often took him for walks in the scenic valley of Mount Snowy, where he found his first four-leaf clover.
Quackmore Duck
Quackmore Duck, an anthropomorphic duck, was the father of Donald Duck and Della Duck. He was married to Hortense McDuck and the son of Humperdink Duck and Elvira Duck. Quackmore was the brother-in-law of Scrooge McDuck, Goosetave Gander, Lulubelle Loon, and Matilda McDuck.
He was also the maternal grandfather of Huey, Dewey, and Louie Duck. Quackmore's in-laws included Dingus McDuck and Molly McDuck, and his nephew-in-law was Gladstone Gander.
He became the son-in-law of Fergus McDuck and Downy McDuck through his marriage to Hortense, but he never had the chance to meet them as they had passed away before he met Hortense.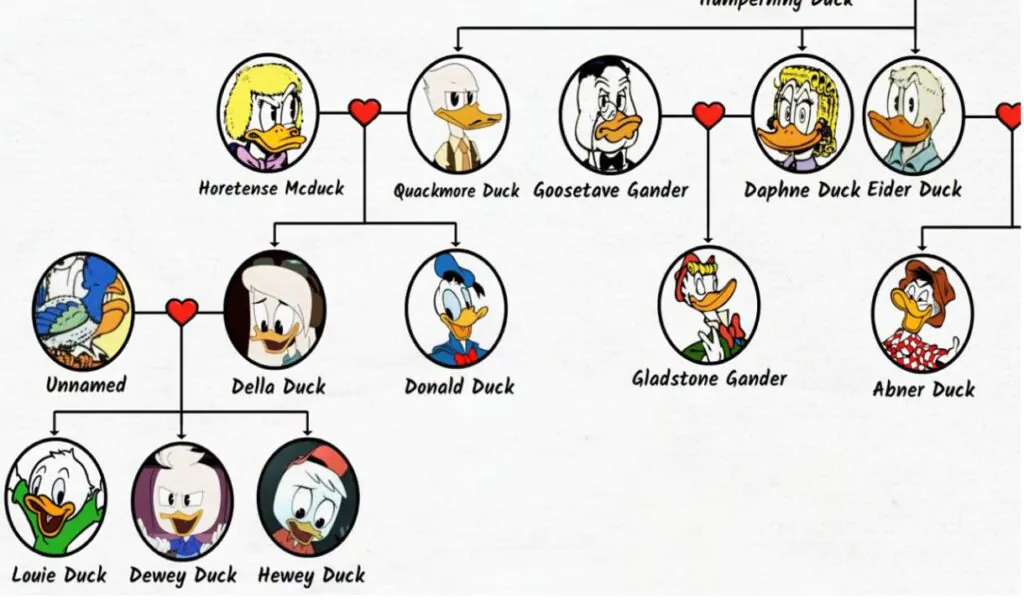 Huey, Dewey, and Louie: Triplets Huey, Dewey, and Louie are Donald Duck's mischievous nephews. These lively youngsters bring an extra dose of excitement and chaos to Donald's life.
With their matching sailor suits and energetic personalities, they are always ready for thrilling adventures, often testing their uncle's patience along the way.
Della Duck
Della Duck, also referred to as Dumbella Duck and Thelma Duck, is recognized as the sister of Donald Duck. She is the daughter of Hortense McDuck and Quackmore Duck, making her part of the Duck family lineage.
Della holds the important role of being the mother to Huey, Dewey, and Louie, who happen to be Donald's mischievous triplet nephews.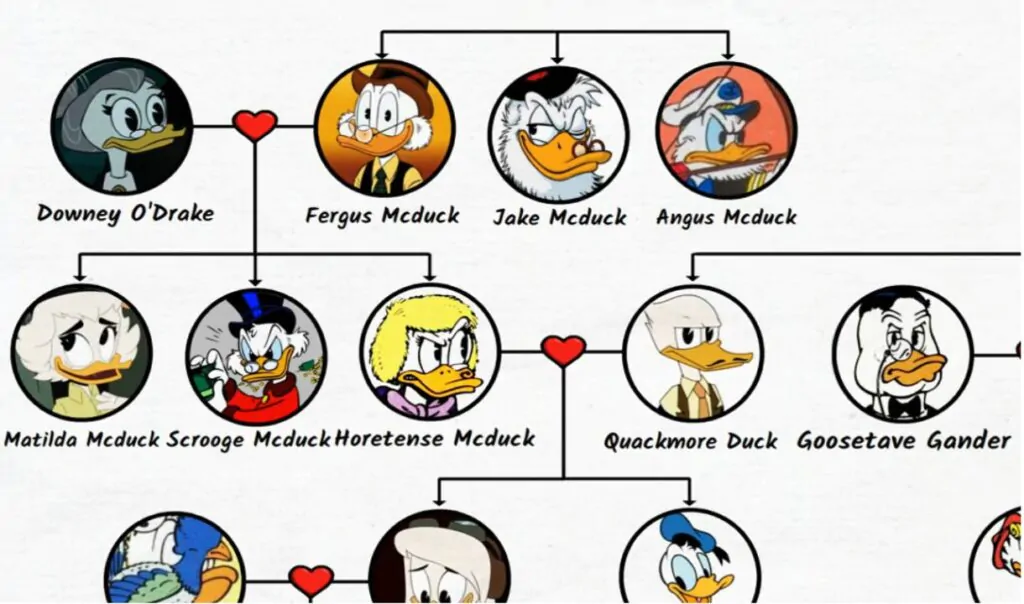 Fergus McDuck
Fergus McDuck, voiced by Graham McTavish, is a member of Clan McDuck. He is the son of Dingus McDuck and the husband of Downy McDuck. Fergus is the father of Scrooge, Hortense, and Matilda McDuck.
He is also the father-in-law of Quackmore Duck and the grandfather of Donald and Della Duck. Additionally, Fergus holds the esteemed title of being the great-grandfather to Huey, Dewey, and Louie Duck.
He and his wife reside in Castle McDuck, which possesses magical druid stones that hold significance to their lives.
Scrooge McDuck
Scrooge McDuck: At the top of the family tree is Scrooge McDuck, Donald's wealthy and adventurous uncle. Known for his love of treasure hunting, Scrooge is often depicted as the richest duck in the world.
With his sharp wit, indomitable spirit, and vast fortune, he embarks on thrilling escapades, seeking out ancient artifacts and exploring uncharted territories.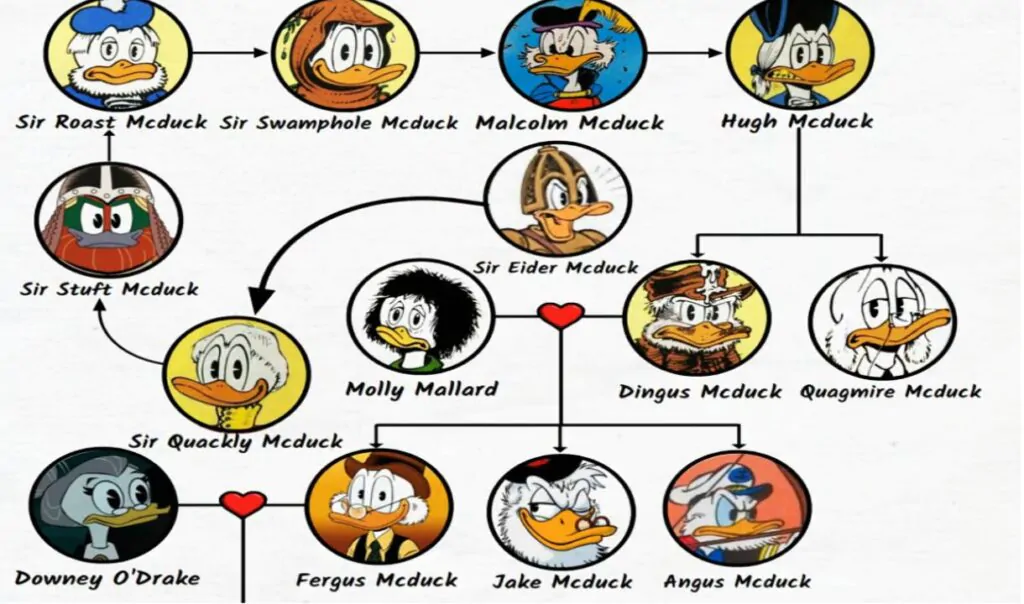 Dingus McDuck
Dingus McDuck, also called Dirty Dingus, was a part of Clan McDuck. He was the father of Fergus McDuck and, consequently, Scrooge McDuck's grandfather.
Dingus had a brother named Quagmire McDuck and worked as a coal miner. He faced challenges when it came to paying taxes.
Sir Quackly McDuck
Sir Quackly McDuck was introduced in 1948 by Carl Barks in the story "The Old Castle's Secret," but he made his physical appearance much later in 1992's "The Last of the Clan McDuck."
Based on the timeline, it is implied that Sir Quackly was the son of Sir Slye MacDuich. This is intriguing because it suggests that Sir Quackly was the first in his family to adopt the name McDuck instead of MacDuich.